Map and Area Demographic Information​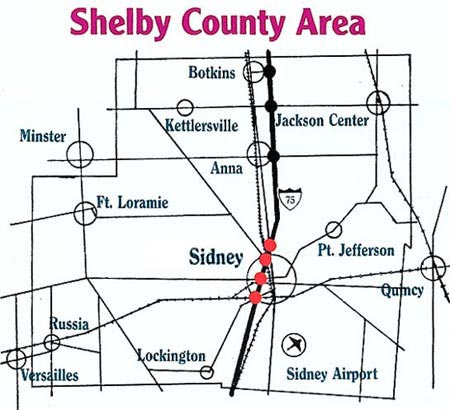 Click on the appropriate area of the map above to view US Census data for an individual city or village.
---
---
SHELBY COUNTY FACTS & FIGURES

Population Estimates
Shelby County 48,623
Anna 1,532
Botkins 1,145
Fort Loramie 1,497
Jackson Center 1,456
Kettlersville 175
Lockington 137
Port Jefferson 356
Russia 652
Sidney 20,564
* US Census Bureau

Income Estimates
Per Capita Personal Income $27,330
Median Household Income $56,169
*US Census Bureau

Housing Estimates
Total Housing Units 20,335
Median Value $134,400
Average Household Size 2.6
* US Census Bureau

Labor Force
Total 23,900
Unemployment Rate (December 2017) 3.8%
*Ohio Department of Job and Family Services

Education
Public High School Four Year Graduation Rate 97.1%
* Ohio School Report Cards

Agriculture
Number of Farms 986
Average Farm Size 209 acres
Total Land in Farms 206,283 acres
Total Agriculture Receipts $207,856,000
* United States Department of Agriculture

Climate
Average Annual High Temperature 61.3 degrees
Average Annual Low Temperature 39.3 degrees
Average Annual Precipitation 39.8 inches
*The Weather Channel

Shelby County is comprised of:
14 Townships 8 Villages 23 Public Schools 35 Voting Precincts
1 City 8 School Districts 3 Private Schools


---
---
Businesses interested in locating or expanding in Shelby County are urged to contact the Sidney-Shelby Economic Partnership.

The Sidney-Shelby Economic Partnership assists new businesses with locating industrial sites and helps them resolve some of the problems associated with relocation. The Partnership is a non-profit organization composed of business and community leaders dedicated to the economic growth of Shelby County.